How the pros
tune their drums.
Discover artist tunings and how tune-bot is the trusted accessory that pros use to perfect their sound.
Dennis Chambers
About
What do John McLaughlin, The P-Funk All Stars, Herbie Hancock, Chick Corea, Victor Wooton, Mike Stern, and Steely Dan all have in common? These are only a small portion of artists who have enlisted the amazing and inspiring drumming of Dennis Chambers.
Hailing from Baltimore, he started playing at age 4 and was performing in nightclubs by the time he celebrated his 6th birthday. It was there he started building the foundation of what was to become his signature sound.
Between the years 1978–1985, he was the force behind the ground-breaking musical forces of Parliament and Funkadelic. After a brief stint in Special EFX, Dennis exploded onto the scene with John Scofield's Blue Matter, Loud Jazz, and the incredible Pick Hits Live. His deep groove can make you bite your bottom lip or he can broadside you with tom flurries that will make you shake your head in disbelief.
Some of his other projects include CAB, Tom Coster, Tetsuo Sakurai, supergroup Niacin, The Brecker Brothers, Andy Summers, Bob Berg, George Duke, Stanley Clarke, and continuing to record and tour with Santana. He has also released several solo CDs: Big City, Getting Even, Outbreak, and Planet Earth.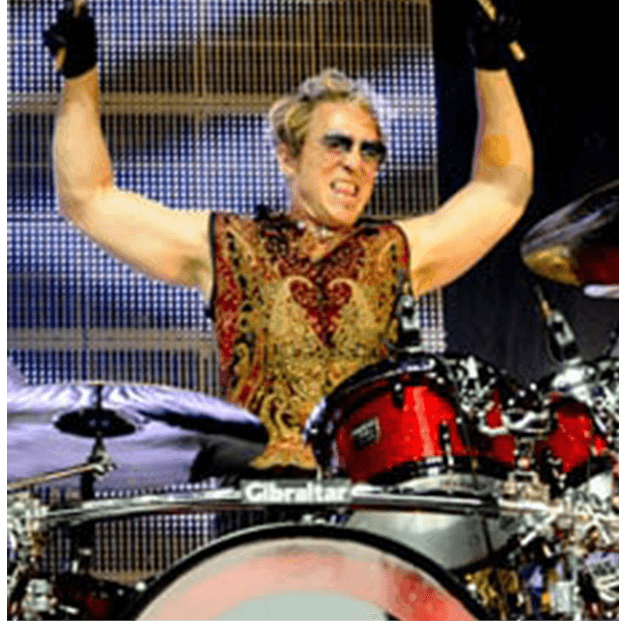 Mark Schulman
About
"When I was a kid, I would have given a lot to know exactly how my drumming idols tuned their drums…now it is possible! With Tune-bot, you not only can learn the exact—I mean exact tuning combinations of your idols—but you can re-create your favorite personal drum sound to the most minute detail with this digital tuning device for drums. My drum tech, Pel, and I really love this ground breaking device because while I'm out on tour with P!NK, Pel can make every drum sound exactly that way we love it every night with the extensive memorized tunings stored in the Tune-bot. Trust me; this device really is all THAT!"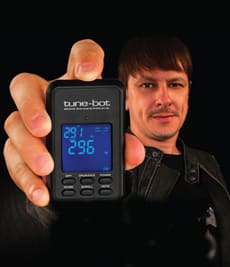 Ray Luzier
About
Ray has been the drummer for Korn since October 2007. Before Korn, he was the drummer for Army of Anyone, which featured multi-platinum artists Robert and Dean DeLeo (Stone Temple Pilots) and Richard Patrick (Filter). Prior to this Ray was the drummer for the David Lee Roth band from 1997-2005 where he toured the globe 5 times and recorded 2 CDs. Ray's had the privilege to record, perform and tour with countless other great bands and artists and altogether Ray has played over 1700 shows and played on over 40 CDs.
Ray on tune-bot – "For fast and consistent setup night after night we count on tune-bot. No matter the city or venue, simply pull up your saved settings and soundcheck is a breeze."
Rich Redmond
About
"I'm having great success with the tune-bot. It's a very powerful tool that packs a lot of punch for the price. I've been using it on the road and in sessions. I especially like the fact that for studio applications, I can tune my snare and toms to specific resonant notes for the key of the song we are tracking. It will make your snare pop and your toms sing and sit right in the mix. I recommend it immensely!"
Jason Bittner
About
Jason Bittner is the Grammy-nominated drummer for the American metal band Shadows Fall. He has won numerous awards including the Modern Drummer Magazine reader poll for #1 Up and Coming Drummer of 2004, and in 2005, #1 Best Recorded Performance for the Shadows Fall album The War Within, #1 Metal drummer (2005/2006) #2 Clinician DRUM! magazine 2011. He is recognized for his tight playing, extensive skill with double bass drumming, particularly his ability to play complex patterns at high speeds, and his familiarity with numerous styles of drumming, including latin and jazz.
John Riley
About
John Riley is a world renowned drummer, who has played with Woody Herman, Stan Getz, Milt Jackson, Miles Davis, Dizzy Gillespie, John Scofield and many others. He is on the faculty of Manhattan School of Music, and SUNY Purchase. John is also the author "The Art of Bop Drumming" and "Beyond Bop Drumming."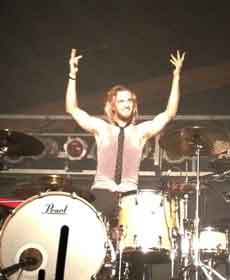 Arejay Hale
About
Arejay is the drummer for Halestorm, which he founded with his sister Lizzy when he was 10 years old. His latest album, "The Strange Case of …" debuted at #1 on Billboard's "Hard Rock Albums" chart, also making a top 15 ranking in the overall Billboard 200. Arejay along with Halestorm, have appeared on NBC's "Late Night with Jimmy Fallon" and had their music featured on the Fox hit series "Glee." True road warriors, Halestorm have established themselves as a major league hard rock outfit via countless gigs alongside such artists as Shinedown, Avenged Sevenfold, Bullet for My Valentine and Disturbed.
Arejay on tune-bot – "Hey, I wanna play drums, not tune 'em. tune-bot helps me get to what I love … FASTER."
Morgan Rose
About
Morgan Rose is a founding member and the drummer of the alternative metal band, Sevendust. Morgan filled in for an injured Tommy Lee for Motley Crue in 2009 and replaced Ray Luzier for Korn during several shows on a joint tour with Sevendust. He also recorded the debut album for Call Me No One and is a producer and vice president of Imagen Records.
Morgan on tune-bot – "Hands free usage, easy to read in stage lighting and 80 save slots, this is a time-saver in every way."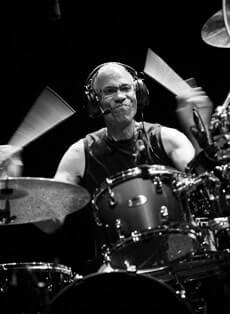 Tony "Thunder" Smith
About
Tony "Thunder" Smith is an American drummer best known as a member of the Lou Reed backing band. He was a former member of the Jan Hammer Group with whom he recorded the album "Jeff Beck with the Jan Hammer Group Live," and was the drummer for French music icon Serge Gainbourg in the eighties and many others.
Tony's mark is his melodic approach to rhythm and ability to inject life into the music he performs. His years of experience and understanding of all aspects of the recording and touring process has made him a top choice among producers worldwide. Tony is also a long time faculty member at Berklee College of Music.
Tommy Rickard
About
Originally from San Francisco, CA, Tommy Rickard is an accomplished drummer, educator, and clinician who's credits include work in all styles of music. This includes performances with Linda Perry, Courtney Love, Sugar Hill Gang, Naughty by Nature, as well as a wide variety of singers, songwriters, and producers. Tommy continues performing today in a wide range of styles that include working with Scott Weiland, Devin Powers, and Vain.
Nate Morton
About
Nate is a graduate of the Berklee College of Music and is the drummer for NBC's hit show "The Voice." He's had gigs with "Rock Star" and "Rock the Cradle." In addition he's backed up Vanessa Carlton, Natalie Cole, Chaka Khan and Poe. Other credits include a national tour with the "American Idol" band and performing with Madonna at the Grammy Awards.
On tune-bot Nate says "My toms have never sounded better!"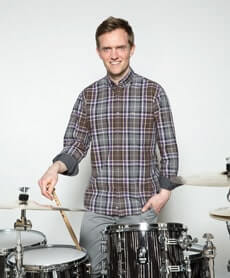 Jost Nickel
About
Jost is one of the new breed of drummers from Germany taking contemporary drumming in new directions. As a member of fusion band Matalex Jost played drums on multiple albums including two with Randy Becker.
Jost is currently with German super-group Jan Delay and Disko No. 1 whose CDs have all gone straight to number #1 on the charts, selling out venues and packing festivals wherever he tours.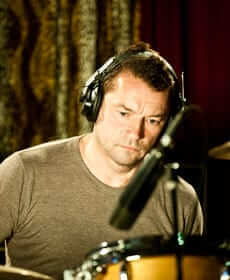 Robin Goodridge
About
Robin is one of the original members of Bush. He has also been a part of several other notable acts such as The Beautiful People and Stone Gods. In 2010 Robin returned to be part of the new Bush lineup along with Gavin Rossdale.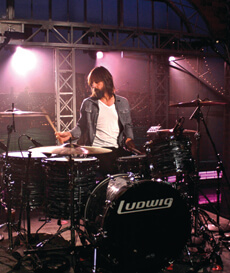 Brian Young
About
Brian Young is the drummer for the New York power pop band Fountains of Wayne who have released five major label albums and scored a gold record with their single Stacy's Mom. Prior to this he spent the mid-1900s with the Posies and appears on their 1996 album Amazing Disgrace. Brian has also worked with a vast number of major artists including: America, Wavves, Ivy and Burt Bacharach. He is currently touring with The Jesus and Mary Chain.
On tune-bot – "We recently did a live record. I met the mix engineer in Nottingham and he was blown away by the drum sound. They had a main show – but if there was a sound issue, he could go to any one of the other five shows and grab 8 bars to fix it – and the drum sound never changed! I mean, how cool is that?!"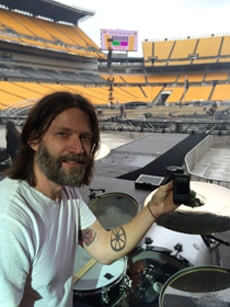 Steve Misamore
About
Steve has played with Dierks Bentley for over 10 years with numerous TV appearances including the 2013 Grammy Awards. He also played drums on the hits "Free and Easy" and "Feel That Fire" as well as the Grammy nominated DVD "Live at the Filmore."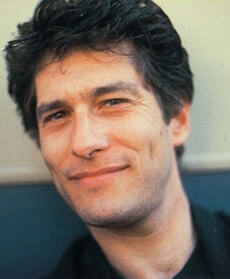 Mike Braun
About
Mike began his love of drums at 10 and at sixteen started studying with some solid teachers including, Jim Chapin, Tony Williams, Sonny Igoe and Norman Grossman. In 1976, Mike got called to do his first album with Elliot Murphy. Sitting in on those sessions were a handful of heavies including, Billy Joel, Richard Davis, and Ralph Schuckett. It was a heady initiation into the professional session world. Since that time, Mike has had the good fortune to work with many great artists, including a 20 year run with Hall and Oates. He has also worked with artists such as; Carly Simon, Graham Parker, Peter Frampton, Todd Rundgren, Michael Mcdonald, Fall Out Boy, Shaggy, Billy Ocean, Toots Hibbert, Duane Eddie, John Waite, Rick Wakeman, Peter Allen, Michael Bolton, KT Tunstall, Arlen Roth, John Sebastian, Phoebe Snow, Leon Redbone, Chuck berry, Bo Diddley, Tom Rush, and Kenny Loggins.
Mike on tune-bot, "tune-bot is an easy and effective way to tune your drums."
John Favicchia
About
One of todays top players, New York-based John Favicchia has performed and/or recorded with such greats as Steve Khan, Eddie Money, Tony Levin, Chieli Minucci,Charlie Daniels, Lonnie Plaxico, Robbers, John Benitez, Gary US Bonds, Harvie S, Larry Coryell, Dean Brown, Rachel Z, Joe Butler-Love And Spoonful, The Tokens, Felix Cavaliere, Kerry Kearney, Chris Geith, Laco Deczi, Long Island Music Hall Of Fame Band, Mike Pope, Steve Adelson and Bob Malach just to name a few. Known for his extreme versatility, in the course of a week John can be seen drumming from NYC Jazz Clubs to Rock Concert halls to International Drum Festivals as well as the top Music Festivals around the world.
Kris Mazzarisi
About
"tune-bot is the best way to keep my drums sounding and feeling consistent. Lug pitch matching keeps the drum balanced and singing to it's full potential. The large super clear screen, ability to save tuning preferences, quick response, easy to use and precise accuracy is just some of the reasons it belongs in any drummers or techs toolbox. It's a must have for any touring drummer especially for fly date backline kits."
Sean Fuller
About
Sean Fuller payed his dues working the famous lower Broadway circuit in Nashville and recording demos with hit song writers Hilary Lindsey, Dallis Davidson and many more. He's backed several country artists including Luke Bryan and Justin Moore. Sean is currently with country super-duo Florida Georgia Line appearing before 50,000 person crowds. Sean has appeared on numerous televised events including: The Voice, Good Morning America, The Today Show, CMT Awards, CMA Awards, ACM awards and "Dick Clarks Rockin New-Years Eve."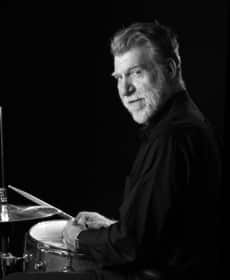 Skip Hadden
About
Skip has a Masters in Education and is a Professor of Percussion at Berklee College of Music in Boston, MA where he has taught since 1982. At Berklee he has developed and taught numerous courses, including Fusion Repertoire and Development, Advanced Fusion, Basic Time and Pulse, Lead Sheet Interpretation, Rhythmic Concepts: Broken Eighth Note Feel, Linear Time Feels and Phrasing, Jazz Drum Styles, Fusion Drum Styles, Funk Drum Styles, Rock Drum Styles, World Drum Styles, Survey of Drumming post '60s and Acoustic Characteristics of the Drumset.
He can be heard on the Weather Report album "Mysterious Traveler" with Josef Zawinul, Wayne Shorter, Alphonso Johnson, Dom Um Ramao, and Ishmael Wilburn. He can also be heard on "This Is Jazz 10, Weather Report," and the recent recording "Reverence" with Michael Bocian, Dewey Redman, and Cameron Brown on the ENJA label.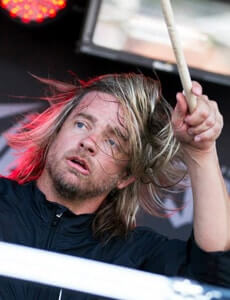 Will Hunt
About
Will Hunt has served as drummer of Evanescence, Dark New Day, Skrape, ELI, Static-X and Black Label Society, just to name a few. In 2008, Hunt filled in for Tommy Lee with the Motley Crue tour when Lee suffered from tendonitis. Will has also played live with Slaughter, Vince Neil, Methods of Mayhem and many more. He recently joined Eye Empire, featuring former/current members of Dark New Day, Stuck Mojo, Switched and Submersed. Up and coming projects for Will include European and Japanese tours with Black Label Society and going into the studio with Evanescence.
Will on tune-bot – "This … Is Simply Amazing!"
Shaun Foist
About
As the current drummer for Breaking Benjamin, Shaun and the rest of his band-mates experienced the thrill of a lifetime when the band's album 'Dark Before Dawn' debuted at Number 1 on Billboard. The band's first single ('Failure') also held down the Number 1 spot on Rock Radio airplay nationwide for 8 consecutive weeks. Prior to drumming for Breaking Benjamin, Shaun received rave reviews in 2013 as the drummer for the opening act on the Alice Cooper /Marilyn Manson 'Masters of Madness – Shock Therapy' nationwide tour.
Shaun on tune-bot – "Pitch Perfect Every Time!"
Stuart Pringle
About
"As a professional musician I have found the tune-bot amazing. I've always tuned my own drums and percussion by ear but found the tune-bot gives it that precise edge! As a teacher, the 'Bot has aided in my students understanding in tuning and pitch and proved the importance of pedantry. It has improved both my students and my knowledge of pitch (and hertz) and precision. Its tuning is amazingly precise and the memory functions are ingenious and intuitive. That and I've never seen a cooler looking gadget."
YORON ISRAEL
About
Yoron Israel, a native Chicagoan, is one of the most gifted and sought after musicians in the music industry today. Yoron's exciting and tasteful drumming, along with his compositional talents are spotlighted throughout his recordings; "VISIONS" – The Music of Stevie Wonder (Ronja Music), "Basic Traneing" (Ronja Music), "Chicago" (Double Time), "Live at the Blue Note" (Half Note) and "A Gift for You" (Ronja Music). He brings his unique influences and experiences in Jazz, World Styles, Gospel, Contemporary Christian, Funk, R & B and Orchestral idioms full circle with his compositions, arrangements, repertoire and ensemble concept: "Music to be enjoyed by all".
Phil Paris
About
"I TESTED THE TUNE-BOT ON TOUR AND IN STUDIO, AND MY CONCLUSION IS THE FOLLOWING: COULDN'T LIVE WITHOUT IT ANYMORE!"
Sergio Bellotti
About
Sergio Bellotti is an international artist and Renaissance man. He has played with some of the world's finest musicians, in demand as a clinician and a professor at Berklee College of Music. As an entrepreneur, he owns 247 Drums, based in Boston, which caters to the needs of drummers everywhere. Sergio moved from the south of Italy to the USA in 1995. Very active in the Boston music scene and as a worldwide clinician/performer, Sergio has recorded and/or shared the stage with Mike Stern, Wayne Krantz, Tom Scott, Bob James, Robben Ford, Rocco Ventrella, RobbenFord,Nathan East,James Montgomery and Dan Siegel among others.
As a session studio musician he has been very active in the contemporary Jazz scene providing tracks for Gio Lombardi, Rocco Ventrella, Jas Miller as well as rapper Pula+ and many more.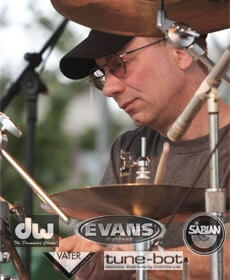 Billy Goodness
About
Billy grew up in Rochester, NY and after starting out on piano shifted his focus to drums by the time he was 8. After a very active period of being an "on call" drummer at 2 local recording studios, playing in bands and playing tympani in a symphony orchestra Billy moved to Nashville. A weekend visit in 1985 turned into a 5 year stay. During that time he had a regular gig with Ricky Van Shelton and toured with numerous artists including: Reba, The Judds, Alabama, Randy Travis, Clint Black, Willy Nelson and many others. In addition Billy has played on several shows for the Nashville Network including: Nashville Now, The Grand Ole Opry and Hee Haw. He's also appeared on The Tonight Show, The Grammy Awards, Austin City Limits, The Country Music Awards among others. Billy currently resides in upstate NY and is involved in session work, touring, writing and teaching.
Billy on tune-bot – "The tuning tool that I've found to be the most helpful/accurate is the tune-bot.It's based on pitch and not tension and can hear smaller differences in pitch than our ears can discern."
Arthur Rezende
About
Arthur Rezende is the Brazillian drummer chosen by rock star Richi Sambori, world-renowned artist and producer Dave Stewart (Eurythmics) and legendary guitarist Orianthi (Michael Jackson, Alice Cooper) to perform with them as winner of the world-wide BeMyBand contest in 2014. In Brazil, Arthur performs with renowned artists: Toninho Horta,Beto Guedes, Flavio Venturini and many others.
Rodrigo Recabarren
About
"I have been using tune bot for more than 2 years now and has become a definitive part of my gear. I have tried it in the studio and on tour and have transformed what used to be the the hardest part of the setup into the easiest. No matter the drums or heads, you can trust tune-bot to help you reach a great sound in almost no time in any setting."Originally from Santiago de Chile, Rodrigo is one of the most active and prolific Chilean drummers. Since moving to New York City in 2009, he has embarked on the search for a personal sound on the drum set and the demand for his services has grown rapidly and constantly in the Jazz world. Rodrigo holds a MM in Jazz performance from New York University and has performed with artists such as Wayne Krantz, Chris Potter, Brad Shepik and John Ellis among many others. He has performed in the US, Latin America, Europe and Japan and since 2013 is a Zildjian endorsed artist.
Chicago Steve
About
"Chicago" Steve is a highly sought after Touring, Studio, First Call Pro Drummer. "Chicago" Steve over the years have toured and performed with members of James Brown, Jackie Wilson. David Cassidy, Sheena Easton, Charo, Muddy Waters, J.Geils Band, Maynard Ferguson, Boston, Steve Miller, Gin Blossoms, Tower of Power, The Coasters, The Monkees, Johnny A, B-52's, John Butcher, Ayla Brown, James Darren, Van Morrison, Dave Mathews, and many more. Playing drums since the age of 10, Steve had his first professional gig at the age of 14. Some of his influences are Neil Peart, Steve Gadd, Buddy Rich, and Dave Garibaldi.
" Since the first time I used the tune-bot I was blown away. Its the only true way of tuning your drums. This is a must have for every drummer!"
Doug Meola
About
"The Tune-bot is hands down the most innovative, resourceful and coolest drum tuning devices available to drummers, it affords me the ability to tune my drums to finite digital precision in any live or studio situation in a fraction of the time it previously took. Having the ability to experiment with various and new tuning options based on the proven science of the Tune-bot opens up a whole new world of sound possibilities for drummers. I am truly impressed with all of the great features that are packed into the Tune-bot, I especially love that it affords me the ability to have all of my perfect tuning settings saved for my whole kit and that they are so conveniently available and accessible, it's like having a drum tech in my stick bag at all times."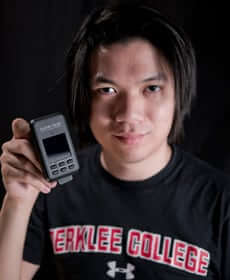 Steve Chen
About
"Tune-bot has become an invaluable tool for me as both a drummer and a producer. Not only does it help me tune any drum I use to perfection, but it helps me to mix my drums with great accuracy and efficiency! I am proud to join the Tune-bot family of artists."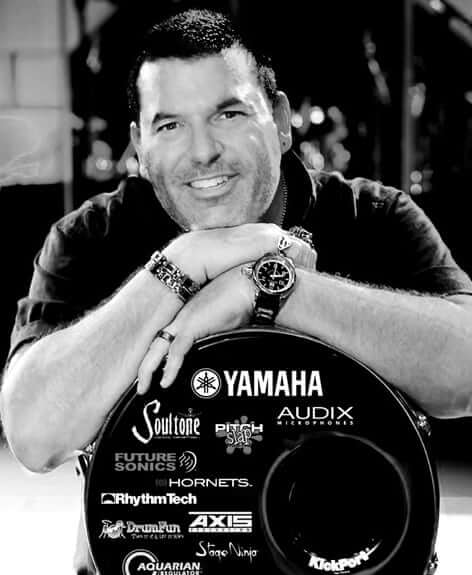 Daniel East
About
"Even though I tune my kit by ear, it can be a challenge to get the exact same tuning for sessions over time, or to swop out heads fast on stage. I set it up once and I have my entire kit saved so my tuned sound is always pitch-correct. tune-bot is the coolest, fastest, most consistently accurate way to help your ears tune the kit every time."
Brian Karl
About
"Brian began playing drums at the age of eleven and studyed with Bobby Rondinelli (Black Sabbath, Rainbow, Blue Oyster Cult, Quiet Riot). He joined the New York City based band, Station, opening for such acts as Joe Lynn Turner, Dio Disciples, .38 Special, Bret Michaels, Trixter and and playing at various festivals throughout the United States. Station released their first EP "WIRED" in 2013 which they recorded in Nashville with the legendary producer, Michael Wagener (Ozzy Osbourne, Skid Row, Motley Crue, Metallica, Alice Cooper, Extreme, Dokken, Warrant). After leaving Station, Brian did sessions with producer, Mick James (Criss Angel) and was a member of his band, Mick James Is Dead. Brian is also a founding member D.M.K. (Dunbar, Merrill, Karl) who are currently recording new music and touring, playing such venues as the Whisky A Go-Go in Hollywood, CA and opening for some of the biggest names in the industry."
Daryll "Deep Pocket" Whitlow
About
"If you've spent years searching for that perfect sound, if you've spent hours in a studio booth searching for that perfect tone, if you've rushed at sound check to get that perfect tuning, your search is over for the perfect tuner. Try tune-bot tuner, the perfect tuner!!!"
"I use DW drums, as you know the shells are matched according to pitch. I have programmed my tune-bot according to the pitch stamped inside each shell. So, when I put new heads on the drums, I don't have to waste time trying to find the right tuning. And as I tighten the head, the tune-bot is already set to tell me if the pitch is up or down, no time wasted"
Kimball "KHook" Hooker
About
"The tune-bot has added a new quick and effective way of drum tuning. It's Like my credit card, I don't leave home without it and it's a MUST have in your drum arsenal! I use it before all sessions work, rehearsals and shows. I can tune to notes and SAVE TIME! I recommend this to ALL drummers no matter what level of expertise you are."
Burak Sirin
About
Burak is an up and coming session drummer hailing from Turkey. When he is on tour or in the studio, he uses the tune-bot to get his set sounding just right. He is also endorsed by Liberty Drums, Istanbul cymbals, and Kickport.
Riaan Diedericks
About
Riaan Diedericks is one of South Africa's most influential and in-demand drummers. With a style of playing that combines power and finesse, Riaan has played with numerous artists, both in studio and live performance, and in addition has played on various award-nominated recordings.Riaan got his first big break with Afrikaans band Ddisselblom. Since then, he has worked with Jan Blohm, Albert de wet, Nianell, Jak de Priester, and many others. For more info see http://diedraak.com
Harald Tanschek
About
Harald Tanschek graduated from the Jazzacademy in Graz, Austria and studied at Berklee College of Music in Boston. Currently based in Vienna, Harald is working with projects in the Europe and the US. He has worked with: Hal Crook, Chico Freeman, Rick Beckham, Bob Brookmeyer, George Garcone, Howard Alden, Mark Murphy, Sheila Jorday, Clark Terry, Lee Konitz, James Morrison, Aki Takase, Voo Voo, Andy Middleton, Steve Logan, Joachim Mencel, Doug Johnson Trio, Grace Kelly, Phil Woods, Jose Ritmo y Cacao, Martin Lubenov Orkestar, Airbass, Richard Oesterreicher, Kris Jefferson, Gina Schwarz's Jazzista and numerous other on-going music-related ventures. "After so many years of tuning in the dark, tune-bot enlightened and demystified drum tuning for me."
Matt Greiner
About
Matt Greiner started August Burns Red in 2003 with a few friends from highschool. Influenced by the fast tempos of death metal, odd time signatures of progressive metal, and the syncopated breakdowns of Meshuggah he fell in love with writing, recording, and performing metal music. He's toured to 6 continents, over 40 countries, and almost 1,700 shows. He plays for DW Drums, Zildjian Cymbals, Vic Firth Drumsticks, Evans Drumheads, and uses Tunebot for all live and studio tuning needs.